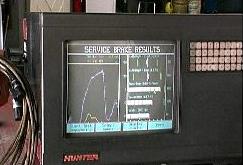 In 2004, the NJ Governor signed legislation establishing the "California Clean Car" Emissions Standards for automobiles sold in New Jersey. The State of California had the strictest air emission standards in the country and now, here in New Jersey, we do too. To make sure automobiles are in compliance with the air emissions standards, testing is required. The latest method of testing takes into consideration three pollutants: hydrocarbons, oxides of nitrogen (NOx) and carbon monoxide.
The test is performed by interrogating the On Board Diagnostic (OBD) computer on vehicles made since 1996. If the check engine lamp isn't on you will probably pass inspection. If the lamp is on, the computer in the car will "turn you in" as being non-compliant with emission regulations. Cars made prior to that are driven onto a machine called a dynamometer – similar to a treadmill, but for cars. For older vehicles, the inspector puts the emissions probe in place, enters information on the car (make, model and year) into a computer, and then accelerates the motor to 15 mph to complete the test. If your automobile fails the test, it might be a simple adjustment or installation of a new part to correct the problem. Click here to see the list of Diagnostic Trouble Codes. Either way, you must get it repaired. For more information on the requirements for this testing go to: www.state.nj.us/mvc/cleanair.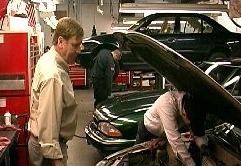 Shade Tree Garage is fully-equipped to inspect your car and keep it in compliance with the new stricter New Jersey State emissions requirements for cleaner air. We are a State-certified Emissions Repair Facility (ERF) and are one of the few automotive repair facilities in the State of New Jersey to have a dynamometer.
If your car failed emissions tests in New Jersey, call Shade Tree Garage today at 973-540-9880 or contact us on-line.