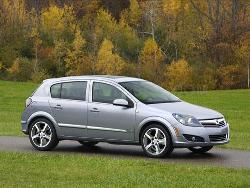 As a Saturn car owner you are already aware the Saturn brand was phased out. Of course Saturn maintenance and service is necessary to protect your investment, but you may be wondering where you can go for service. Why not trust your Saturn car to the automotive repair experts, the Saturn mechanics, at Shade Tree Garage in Morristown, NJ?
We've been in the automotive repair business since 1975, and our technicians are extremely knowledgeable in all makes and models including Saturn cars and SUVs. In fact, we are an AC Delco Master Tech Shop and our technicians received training directly from GM.
With each visit, your Shade Tree technician performs a 27-point safety inspection so you can be alerted to potential problems requiring Saturn maintenance and service. That way you can deal with those problems before they become major breakdowns or costly repairs. Parts availability is still great for the Saturn line, so don't be concerned… we've got you covered.
Call us or schedule your appointment for Saturn maintenance and service on-line now.
Saturn Repairs and Service Done By Our Saturn Mechanics
When you are faced with a Saturn repair issue, you want to know the work is being handled by professionals and the repair work is done correctly. The expert technicians in our full-service auto repair facility have the tools and equipment to provide a broad range of Saturn repair services including repairs to engines, brakes and electrical systems.
We also offer expanded automotive repair services for suspensions and heating/air conditioning. And, if we find that any repair work is covered under your Saturn warranty, we'll refer you to an approved Saturn warranty service provider so the work can be completed at no charge to you.
At Shade Tree Garage we're proud of our service reputation and workmanship. In fact, we contend you'll receive better Saturn maintenance and service from our Saturn mechanics than you would from a local retail chain or the local Saturn service provider. That's because our technicians are certified in all major areas of car repair and possess superior diagnostic skills that can only be acquired from years of servicing many different makes and models.
You can always trust the Shade Tree Garage team to handle all your Saturn repair needs. We prepare written estimates before starting work and show you any worn or replaced parts when finished. More importantly, we stand behind our work for 30 months or 30,000 miles, whichever comes first. So call us today for your Saturn repair needs and experience the Shade Tree Garage difference.